Thank you for printing our article. Explore Lifehack for similar articles to help you improve your life.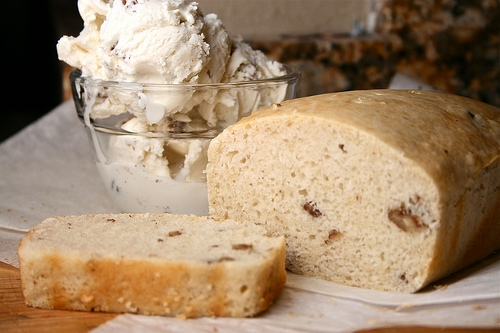 Have got free 5 minutes? NOT miss this culinary experiment .
Ice-Cream Bread? Sounds too weird … But using two radically different products for making one "yummy" thing – already sounds curious. For now, all you need to do is to forget about your work or whatever you are doing and find free 5 minutes to make this extraordinary culinary experiment. "Abracadabra" is not enough for making one sweet bread from ice-cream. We in need of one extra ingredient and our secret weapon is flour in this case. As we already know ice-cream contains egg, milk, sugar and vanilla, these are things we use in making of some sweeties.  So now we have everything to turn Ice-Cream into Bread.I hope you have heard about baking. Bake at about 350 degrees like 20-22 minutes. After it`s finished, you are ready to eat it. Congratulations. You are saved from hunger very easily with sweet bread. Find a lot about  "yummy" experiments at The Hungry HouseWife.
© 2005 - 2018 Lifehack · All Rights Reserved.